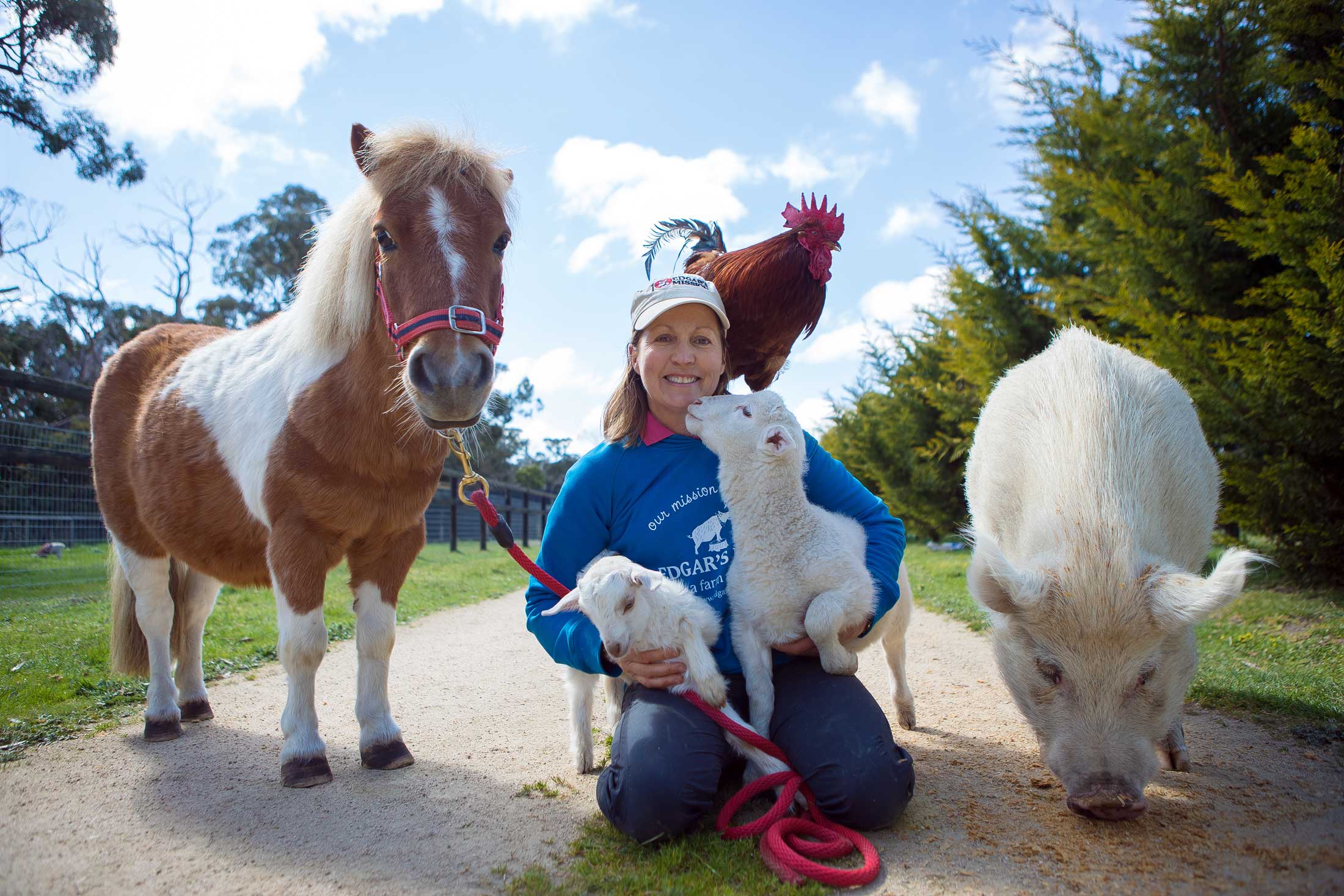 Meet the inspiring animals and compassionate humans who are involved in Be Kind to Animals Week!
Our furry, feathered and finned friends whose lives have been transformed by the kindness of people just like you!
From athletes to animal rights advocates, nutritionists to models, here are our human ambassadors for Be Kind to Animals Week.
Edgar's Mission Founder & Director.
"As a wee tot, I can still remember my mum whispering "be kind" as my hand stretched out to pet our family cat, Tiny. Sage words that still guide my hand and heart today, reminding that every being who treads, swims or flies upon this earth wants, needs and responds to kindness. Because although they may look different on the outside, inside we are all the same."
Director of Strategy, Animals Australia.
"Kindness to animals is a natural state of being and human expression. When we consciously peel back the layers of inherited thinking, we inevitably find the deepest, heartfelt desire to protect animals from harm. They are our 'fellow travellers', here to experience life on earth with us. It is no coincidence that their lives and our lives are enriched through the power and beauty of human kindness."
Aka Dara Hayes DJ, Producer and Animal Rights Activist.
"I have learnt that animals are just like us and just as deserving of kindness. Switching to a plant-based and cruelty-free lifestyle was the best decision I have ever made. It gives me a sense of purpose and direction. It is empowering to be a voice for the voiceless and to live a life that is causing no cruelty or harm to other beings. It costs nothing to be kind."
Actor, Model and Animal Activist.
"Many of us say we love animals and that we value peace, compassion and non-violence. Let's well and truly mean it by going vegan and aligning our actions with our values."
Actor & Martial Artist
"For me it started with a week of kindness, which led to a month and a few more. I soon realised it wasn't as hard as I thought! Doing good felt good. When I see an animal now I see a friend not food. Sometimes a small step in the right direction is all you need to change your world and theirs."
Fry's Family Foods Director & Plant Based Nutritionist.
"I love all animals… not only the ones that have been given names. We are born with compassion and yet our food choices don't always align with our deepest and truest values. I live my life trying to support people on their journey to a more conscious life, one that does not contribute to animal suffering and one that brings a deep sense of happiness, wellness and innate alignment."
Kindness Ambassador.
"Being kind to animals is always something I've thought about. Why harm living things is something that has stuck by me. Animals make you smile through their actions. Respecting animals as living things is so important. To me, animals aren't food , makeup or clothing and I believe that the only difference is your perception. Please love animals for the amazing, unique beings they are and be kind to them."
Actor.
"If we were lucky we were raised with a dog, cat, or other animal companion. These are the best friends of our childhoods. When I lost my first dog it was a sadness unsurpassed. He was my family and yet a different species. This is our first relationship to the animal kingdom. We know the love they awaken in us, and we know their capacity to feel our emotions."
Animal Rights Advocate & Eco Warrior.
"The need for kindness and compassion has never been greater. Raising awareness on the plight of all animals, not just those we call our pets, is something I have always felt passionately about. Animals bring so much joy, happiness and love to our everyday existence. Please respect them, appreciate them, but most of all, be kind to them."
Writer, Radio and TV Presenter.
"Our beautiful animal friends teach us so many important things - how to love fully, how to be present, how to take pleasure in the simple, perfect moments in life. Kindness towards them should be innate within us all."
DJ, Producer & Fashion Designer.
"I am a huge animal lover and I came to realise, most of us were brought up to value farm animals less than other animals, which is wrong. Animals are not our food, clothing, bags and cosmetics. Being vegan over 7 years, I know a kinder life is the best way to live for the animals, the environment and your own health, it's all connected."
Founders of vegan footwear label TWOOBS
"Gandhi said "Be the change you wish to see in the world". By treating animals kindly and with respect, by advocating for their rights through what we put on our plates and the products we buy, we feel empowered and hopeful that we're moving towards a world in which everyone is kind to animals."
Animal Behaviouralist
"Whether it is an elephant, bear, big cat, piglet or a dog, all of the animals I have encountered over the years thrive when they are treated with kindness and respect. It is truly remarkable to see an animal show you that they trust you and want to be a part of whatever it is you are doing or asking of them. This is a partnership that can push past many boundaries with endless benefits to all involved."
Authenticity Coach
"It is my hope that more and more people will open up their hearts and treat all animals with the love, kindness and care they deserve. I truly believe that deep in our hearts, we know right from wrong. We know the truth of what actually matters. If more people stopped, listened and acted upon their hearts, they'd see the sentient being inside the animal and make different choices."